PAS 68:2007. Dynamic impact test.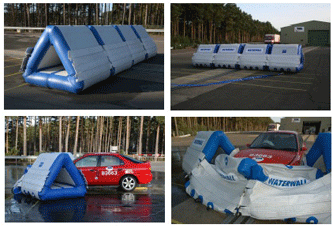 The impact conditions of the test were met with a total test mass of 1500 kg at a speed of 48km/h and at an angle of 90° to the line of the impact face.
The test was conducted with 4 Ram Bags. The bags were interconnected using 12 No: bolts threaded through webbing loops made from straps surrounding the bags. Each bag was of a triangular cross section with walls 335mm thick and filled with water. The vehicle hit the centre of the 4-unit Ram Bag as designed and on impact the centre two bags ruptured spraying the vehicle with water. The structure then gave way allowing the vehicle to come to a halt without major damage.
The vehicle could not be removed from the Ram Bags until the water had been mostly drained from the remaining two bags over a period of about 5-10 minutes. Penetration was zero and no debris was ejected. A following vehicle could not have passed through.
PAS 68:2007 Performance classification—vehicle impact test V Temporary barrier 1500 48/0/0
Specifications: per 'A' frame unit
External Height – 1490mm/59"
External Width – 1590mm/63"
External Depth – 1532mm/60"
Wall Thickness – 335mm/13"
Water Volume – 1939 litres/512 US Gal
Weight Empty – 25 Kgs/55 lbs
Weight Full – 1965 Kgs/4329 lbs