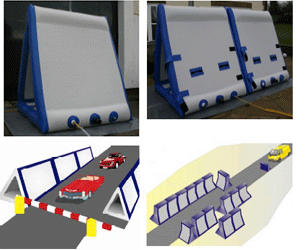 The Waterwall A Frame range of products are PVC coated and internally reinforced with pressure relief valves ensure that the units are not over inflated and to indicate when the walls are full of water. The 'A' frame Waterwall was designed to change the natural characteristics of water wanting to flow horizontally. The ground breaking technology allows water to be shaped and controlled and make it free standing 3 metres high. Its form was developed and tested to absorb and redirect the blast over pressure and fragmentation of large improvised devices such as vehicle bombs. Together with other security measures the object of the A frame is designed and tested to provide both protect and increased stand-off for valuable assets. The A frame can be positioned with relatively small footprints at point of entry or at a check point to provide a 3 metre high blast absorbing wall that has been tested to defeat a TNT equivalent of 250Kg (550 lbs) of high explosive.
The product is easily and quickly deployed during periods of heightened security and stored away flat pack when not in use.
Increased mechanical protection can be added using ballistic nylons to the outer walls which can be decorated with any logos or security messages that the client may desire.
Specifications
External Height – 1835mm/72"
External Width – 1540mm/60"
External Depth – 1500mm/59"
Wall Thickness – 200mm/8"
Water Volume – 1400 litres/370 US Gal
Weight Empty – 29 Kgs/64 lbs
Weight Full – 1429 Kgs/3150 lbs