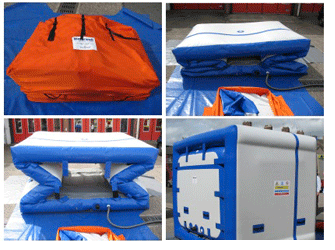 The Cargo isolator is designed to accept a piece of airfreight passing through a one-and-ahalf square metre (1.5m2) X-ray machine. In the event that a suspicious object is detected during routine pre-flight screening, the freight can be completely isolated on all six sides and moved if necessary to a remote location to await the arrival of the bomb squad.
This product pushes the boundaries of Waterwall technology and considerable attention and effort has been taken to ensure that the product remains completely stable at all stages of the operation.
Unlike the other products in the Waterwall range, an air-filled stability layer has been included in the design to increase the stiffness of the roof section enabling larger volumes to be accommodated. Alternatively the air stability layer could be filled with nitrogen to increase the effectiveness of the blast pressure mitigation.
Specifications
External Height – 2170mm/85"
External Width – 2840mm/111"
External Depth – 2170mm/85"
Internal Height – 1500mm/59"
Internal Width – 1500mm/59"
Internal Depth – 1500mm/59"
Wall Thickness – 335mm/13"
Water Volume – 9361 litres/2472 US Gal
Weight Empty – 134 Kgs/295 lbs
Weight Full – 9495 Kgs/20932 lbs