Waterwall Water Storage – 10,000 Litre Unit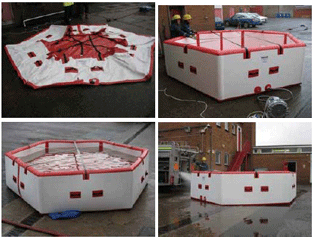 The hexagon water storage dams are designed to provide rapid storage capabilities for fire fighting appliances.
Due to the limited water storage of a fire appliance it is necessary to provide additional water to the appliance if a mains supply is not available. This storage unit allows a bowser or tanker to fill the unit and leave to refill, while the fire appliance can draw the water from the storage unit.
The Waterwall dam is able to be used even on uneven ground and gentle slopes.
Waterwall dams are bespoke designs that can be made to suit the clients requirements and can vary in size and capacity.
The Waterwall dam comes flat packed in its own valise. It is then inflated using an air pump or a compressed air supply. As soon as the dam is inflated it is ready to receive water.
Specifications:
External Height – 1000mm/39"
External Width – 4346mm/171"
External Depth – 3764mm/148"
Internal Height – 1000mm/39″
Internal Width – 4000mm/157″
Internal Depth – 3464mm/136″
Wall Thickness – 150mm/6"
Water Volume – 10,392 litres/2745 US Gal
Weight Empty – 58 Kgs/127 lbs
Available Sizes – 3000, 5000, 7000, 10,000 lt & Custom/792, 1320, 1849, 2641 USGal, Custom