Initial Information
The illustrations show the first Test of the product at Maindee Fire Station on 12th March 2009. The test was achieved by forming the units into an unbroken rectangle to enable water to be introduced into the preformed enclosure that would be sufficiently water tight to enable the barriers to work successfully. The entire exercise took two and a half hours, demonstrating the speed of erection and ease of assembly. The product is very quickly dismantled and stored for future use.
The modular system of 'A' frames which are inflated with air are positioned next to each other across the low lying area, the joins are sealed with PVC strips which are attached to each unit. The bottom edge is fitted with a PVC skirt which spreads in front of the units to form a seal with the ground. Once in position the units are filled with water, displacing the air from the units through pressure relief valves, which maintains the shape during filling.
Each unit measures 2000mm high x 1532 deep x 1561mm wide and holds 1,700 litres of water, which forms a solid wall of water able to withstand water to a height of 1.5mts. Each unit weighs 32kgs and can be easily transported and erected. The units can be formed into a straight wall or, using the shaped corner units, be placed completely around a building or structure, to create a dry area within.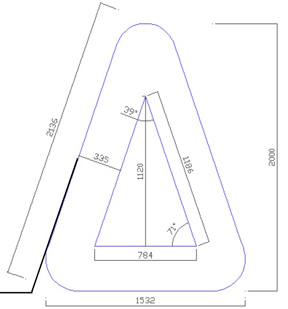 Cintec International Ltd. Have extended its pneumatic and fabric technology to produce a bespoke, novel, temporary flood barrier known as Fortress.
The newly patented system is designed to create internal shear into fabric walls using internal reinforcement that allows water to form walls of the desired shape and size.
The individual wall sections come flat packed in a valise and are quickly inflated to the desired shape using an air pump. Once the walls have been erected they are joined together to form a wall similar to a castle fortress. This can be in a straight line or in the shape of a coffer dam or any other configuration that may be required.
Once in position the units are individually pumped with water, displacing the air through relief valves and providing a solid structure that is capable of withstanding water pressure to a height of 1.5mts. If additional support is required, the inner triangle section can also be air or water filled to give additional strength and support.
The construction joints are waterproofed using PVC flaps attached to the Waterwalls using velcro strips at both sides and the base of each unit, on top of 'T' shaped construction barriers.