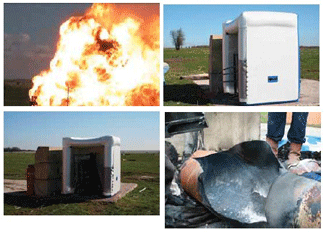 The Acetylene Isolator was designed and tested to be deployed and inflated around an acetylene cylinder that has been accidentally heated and is considered unstable.
The 335 mm PVC coated and internally reinforced Waterwall comprises of three walls and a roof section with a separate door section that is added once the main structure is in position. All the panels are fitted with pressure relief valves to avoid over filling and indicating when full of water.
The product has been tested by the Royal College of Science test range in Wiltshire United Kingdom in 2008 when acetylene bottles were heated to destruction inside a standard Waterwall unit.
The Waterwall units can be configured to cover acetylene cylinders that are standing prone, laying horizontally or against a wall.
It is recommended that the Waterwall is positioned after the heat source has been removed using the Cintec robot that has been especially designed for the task.
Specifications
External Height – 2035mm/80"
External Width – 1670mm/66"
External Depth – 1470mm/58"
Internal Height – 1700mm/67″
Internal Width – 1000mm/39″
Internal Depth – 800mm/31″
Wall Thickness – 335mm/13"
Water Volume – 3900 litres/1030 US Gal
Weight Empty – 44 Kgs/97 lbs
Weight Full – 3944 Kgs/8695 lbs